My Favorite Meatloaf
By
Joanna Liberty
This meatloaf recipe is our family's favorite – my husband says it's the best I've ever made. We like it in part because this recipe makes one for dinner and two for the freezer, which can be frozen in pans and moved out of the pans once they are frozen. We also sometimes make it and put all 3 in the freezer.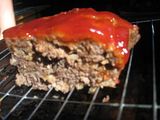 Prep Time: 30 minutes
Cook Time: 90 minutes
Yield: 3 loaves


Ingredients:
– 2 tablespoons oil
– 1 small onion, chopped
– 4 cloves of garlic, minced
– 2 teaspoons thyme
– 2/3 cup milk
– 2 eggs
– 1/2 cup ketchup
– 1 cup bread crumbs (I use about half bread crumbs and half cracker crumbs. You can sneak in more nutrients by using whole wheat or multi-grain crackers and bread)
– 2 1/2 teaspoons salt
– 1 teaspoon pepper
– 2 pounds ground beef
– 2 pounds ground mild sausage
Sauce:
– 1/2 cup ketchup
– 2 tablespoons brown sugar
Directions:
1. If you plan to cook meatloaf for use today, preheat oven to 350 degrees F. For pans you would like to freeze, line the pan with foil first then plastic wrap.
2. In a saute pan, heat oil and cook onion until it is soft and slightly translucent – about 5 minutes.
3. Add garlic and thyme to the pan and cook for an additional minute. Set mixture aside.
4. In a large bowl, combine milk, eggs and ketchup. Mix well.
5. Add breadcrumbs, salt and pepper to the milk mixture and stir.
6. Add meats and onion mixture and stir well. You can also combine with your hands.
7. Press meat mixture into loaf pans.
8. For pans you would like to freeze, close the plastic wrap first and then close the foil over the top of the meatloaf making sure it is all covered. Place in freezer. When it is frozen solid, remove the meatloaf in plastic wrap and foil from the pan. Label and return to freezer. I usually put them in a 2 1/2 gallon plastic zip top bag.
9. For pans you would like to eat immediately, do not line pans but simply press meatloaf into the pan.
10. Put meatloaf in unlined pan into the oven for 90 minutes.
11. After 60 minutes, combine ketchup and brown sugar for sauce and add to the top of the meatloaf. Return meatloaf to oven for remaining 30 minutes.
Joanna is a stay-at-home mother of 2 young boys. She enjoys reading, writing, cooking, socializing, and constantly struggles to find new and better ways to manage the home.