Since she is one of my all-time favorite authors, I knew that I would love the new book by Stephanie Laurens. But I didn't know that the story would be so absorbing! I was barely able to put the book down, and finished it the day after it arrived on my doorstep – that's pretty fast for a mom at home with 2 kids all day! Completely living up to my high expectations of her work, Stephanie Laurens blew me away with The Lady Risks All with her detailed characters, intricate storyweaving, and entertaining mystery.
The Lady Risks All tells the tale of Miranda Clifford, an orphaned child who lives with her aunt and brother in London 1823. It's also the tale of Neville Roscoe, a notorious underworld kingpin who runs a large ring of gambling parlours and hells in and around London. He's a brisk, determined man who believes he's given up his chance for a family, and she's a woman who has always been told she needed to mind her p's and q's even more than the normal person because her family money had come from trade. Throughout the book, we learn bits and pieces about each of these characters as they fight for and against one another – and their love. It's a historical romance with several steamy scenes, and a complex storyline.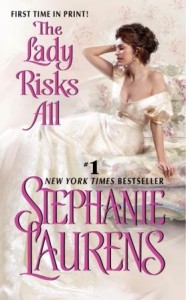 I love the attention that Stephanie Laurens pays to detail in her stories – it's one of the reasons that she's one of my favorite authors. She makes her characters come alive. Not only does she give them family, descriptions, opinions, ideas, and that sort of life, but she makes them come out of and beyond the page by making them even more than just a story on a page in a book. When I'm reading one of her books, I can't stop thinking about the characters, wondering what will happen next, all the while confident that I've solved the mystery before the characters have solved it.
Of course, with her intricate storyweaving, it always happens that I don't have the mystery solved. In fact, I don't even usually have the full deck of information at that point. Stephanie Laurens does an amazing job of keeping just enough details close. She gives her readers the details to think they've solved the puzzle, but keeps them guessing as she slowly reveals and unravels the facts of the story. It's amazing and awesome and part of the reason that I dream of emulating her as an author.
I've been an avid reader of mysteries since I was very young – I can still remember showing my dad a Stephen King book (and that didn't go over very well). That experience of reading many mysteries, plus a sort of innate confidence that I'm smarter than everyone else usually gives me the confidence to believe that I have solved or will shortly solve any puzzle or mystery set before me. And when I read Stephanie Laurens books, I'm wrong every time. It's thrilling to be wrong, especially because she doesn't make it uncomfortable or grasp at straws to keep the reader guessing. Trust me, you'll love to not solve these mysteries.
Of course, before I signed up to be a tour stop for her book tour, I knew that I would love the book. But I also have high expectations for Stephanie Laurens and my other favorite authors, so I always fear that this will be the one that makes me purge my bookshelf of all her works. Thankfully for me, she did not disappoint whatsoever – and I also love that the characters are woven into the stories from other books that she's written, it makes it seem like there's this whole universe of stories just waiting for her to pluck them out of the air and write them down. Which, in a way, is exactly how I imagine prolific writers work. In The Lady Risks All, Stephanie Laurens lives up to my high expectations with characters that come alive off the page, incredible storytelling, and an entertaining mystery.
The Lady Risks All is on tour with TLC Book Tours, check out the reviews from these other tour hosts:
Urban Girl Reader
Life in Review
PS – I saw the book on the shelf at Kroger today!
Disclosure: I received this book for free from the publisher to facilitate my review. My opinions are honest and my own.